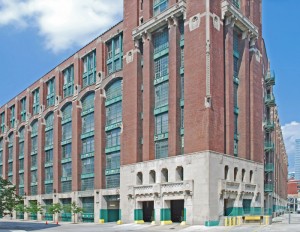 350 E Cermak is our original data center facility and we have multiple phases with ones completed in each 2001, 2005, 2009, and 2011. It is the largest data center in the world (1.1 million sq. ft.) and the primary carrier hotel in Chicago with direct access, through Equinix and the building meet-me-room (MMR), to hundreds of networks, such as Verizon, Zayo, CenturyLink, XO Communication, Sprint, AT&T, and Cogent. Ideal for those in need of diverse connectivity or for trading/financial purposes due to the proximity to the Chicago Mercantile Exchange (CME) and the Intercontinental Exchange (ICE) in addition to many other financial networks and exchanges.
Redundant and Precise HVAC System
Air control is critical in maintaining fast, efficient performance from our customers' equipment. To create the right environment, the data center is fitted with a comprehensive HVAC system that delivers constant, ideal air conditions, between 68 and 74 degrees Fahrenheit and between 40% and 50% relative humidity at all times. Our HVAC system uses efficient and effective chilled water cooling, not a standard forced/chilled air configuration. HVAC systems maintain a minimum of N+1 redundancy, allowing the data center to maintain a constant, cool environment that is conducive to our customers' mission-critical equipment and operations.
Redundant Power and UPS
The power systems are equipped with a level of redundancy that guarantees continuous operation. To ensure that the data center is always operational all the time, a multi-layer power generation system, using some of the highest grade equipment available, is in place. Conditioned AC power with two independent A & B power buses, respectively, is available. In addition, UPS, battery and diesel generators back up every power system. Unlike some other data centers the climate control and security measures are also backed up with redundant power to ensure clean operation during power outages. The UPS systems maintain at least 15 minutes of battery backup and onsite diesel generators are brought up automatically within seconds for longer outages.